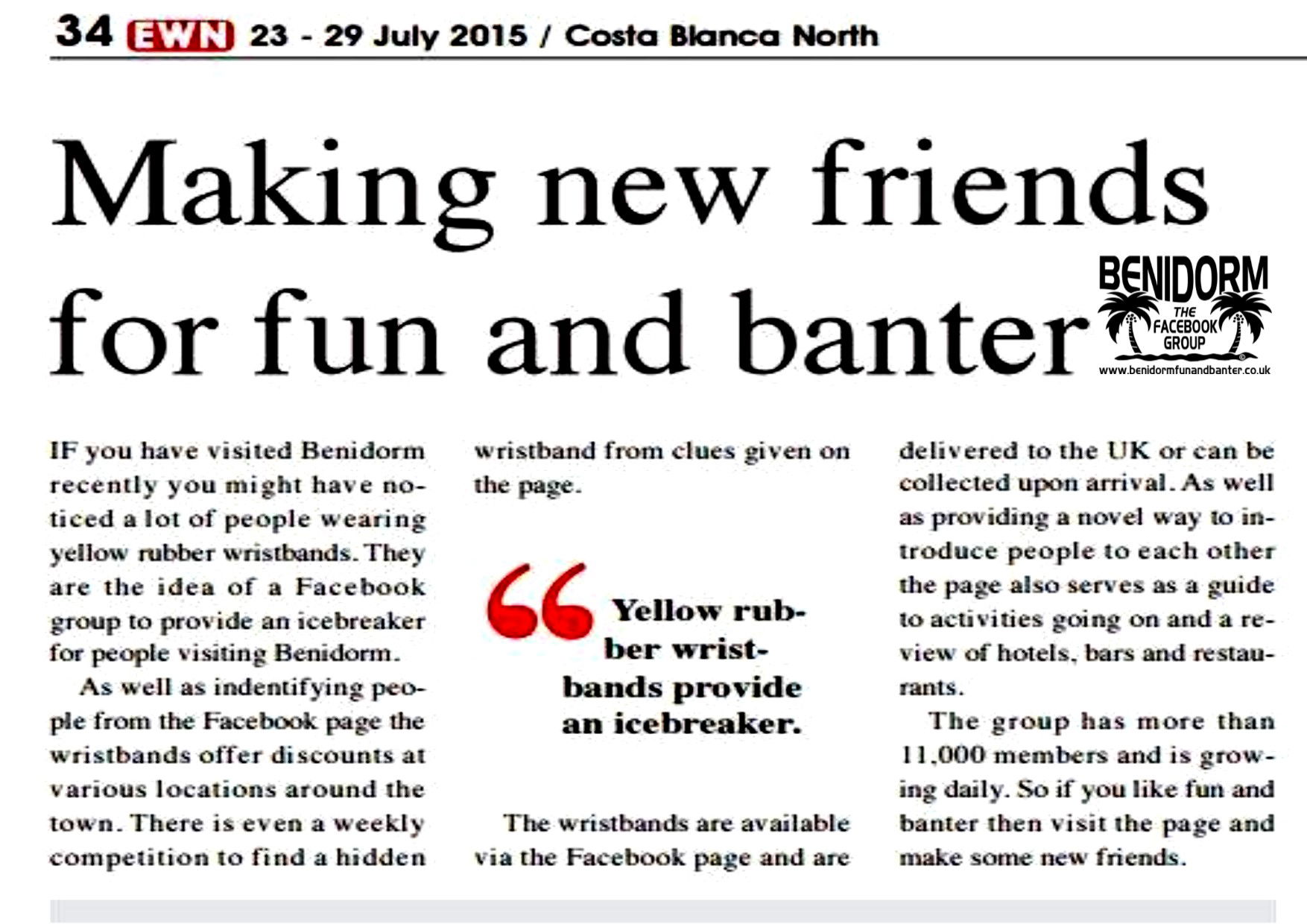 How the wristbands work
Benidorm the Facebook group started in October 2014 and has been growing rapidly ever since.
Benidorm the Facebook group offers members the opportunity to purchase a group wristband from www.jdensprints.co.uk
@ £4.50 each entitling the wearer of the band to a selection of discounts on drinks, transfers, apartments plus many more.
As well as giving discounts the bands are a great way to identify other group members which is a fantastic ice breaker and a great way to meet friends old and new!
This is a non-profiting group that works with businesses in Benidorm by supporting them where-by advertising their business giving members discounts.
All proceeds made from the wristbands go back into the group towards advertising fees.
For a full list of sponsors can be seen on one of our facebook groups which can be found in the main menu on this website and to purchase your wristbands please go to www.jdensprints.co.uk
Would you like to be a sponsor ?
What Can We Offer Sponsors?
1 - 100k members and counting.
2 – 6 Facebook groups to advertise in.
3 – 4 Facebook pages.
4 – 14 Admin/Moderators who are offering Members of the public information daily.
5 – Website which has been running for a little over 3 year #Ranked 3th on Google first page.
6 – One full page of advertising.
7 – including pictures – bio – contact details.
8 – Hyperlinks to your own Facebook or website.
8a – Website work is all FREE so when you need to alter wording or pictures, we do it free (within reason).
9 – We can advertise you on Instagram – on 2 different accounts (fab) (Benidorm reviews).
10 – We also have our own A6 map of Benidorm we put you on.
11 – Every time someone buys a wristband, they get the map free sent to the address.
12 – As a sponsor you also get promoted daily from our Admin/moderators as soon as someone asks about a meal/drink/sport and much more the first to be added to the post are our sponsors, not just that all external links are removed from Facebook post so people only get your links, and our main 3 groups the only people who can advertise daily in the groups are sponsors ONLY!!
Several times a year we also PAY to advertise on FACEBOOK/INSTAGRAM at no cost to you.
LARGE PRINT (small print)
What do we want in return for offering you a place on our Website.
1 – offer our wristband wearers 10% off there first purchase of the day. (excluding daily specials)
2 – Offer our wristband wearers a free shot
3 – Place some A4 posters up in your business so our members know you're a Wristband Sponsor.
4 — finally, Yearly fee to help towards the website cost of 40 Euro to be payed by PayPal. Yearly dates run from 1st Jan till 31st Dec.
special deals can be had by contacting our admin team, from 100 Euro yearly, with out sponsorship. T.C apply**
we do have packages to suite any new businesses .
Finally, whilst you are a sponsor of our website, we are offering you thousands of pounds of savings per year – you can not sponsor any other wristband scheme with anyone else.
Failure to comply with our terms and conditions will get you removed.
Benidorm Reviews is sponsored by Roy Chubby Brown © 2021