Learn about the EHIC and apply or renew now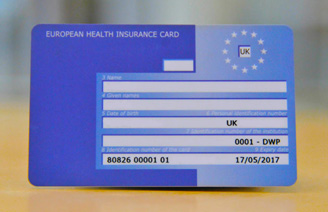 You can apply for or renew an EHIC using the official EHIC online application form. This is free of charge. Beware of unofficial websites, which may charge if you apply through them.

Read NHS Business Services Authority's FAQ on Why was I charged for a EHIC?. In addition, you can follow EHIC on Facebook or Twitter for NHS BSA latest updates and for answers to your questions.
A valid European Health Insurance Card gives you the right to access state-provided healthcare during a temporary stay in another European Economic Area (EEA) country or Switzerland.
The EHIC covers treatment that is medically necessary until your planned return home. Treatment should be provided on the same basis as it would to a resident of that country, either at a reduced cost or, in many cases, for free. For example, in some countries, patients are expected to directly contribute a percentage towards the cost of their state-provided treatment. This is known as a patient co-payment. If you receive treatment under this type of healthcare system, you are expected to pay the same co-payment charge as a patient from that country.
The EHIC also covers the treatment of pre-existing medical conditions and routine maternity care, provided the reason for your visit is not specifically to give birth or seek treatment. For more information about what is covered in each country, see our country-by-country guide.

Download the EHIC smartphone app from the European Commission website so you can easily access the information while you are abroad.
The EHIC is not an alternative to travel insurance. It will not cover any private medical healthcare or costs, such as mountain rescue in ski resorts, being flown back to the UK, or lost or stolen property. It is also not valid on cruises.
It is therefore important to have both an EHIC and a valid private travel insurance policy in place before you travel. Some insurers now insist you hold an EHIC, and many will waive the excess if you have one.
If you are travelling for the express purpose of obtaining medical treatment, read the section on seeking medical treatment in Europe.
Residents of the United Kingdom
Entitlement to an EHIC is based on insurability under EU law, and not on a person's nationality. This applies to all EEA countries. The UK operates a residency-based healthcare system, which means that insurability is generally determined by residency and not by the past or present payment of National Insurance contributions or UK taxes.
If you are ordinarily resident in the UK and not insured by another EEA country, then you are likely to be considered to be insured by the UK under EU law and, therefore, will be entitled to a UK-issued EHIC. You will need to provide the necessary evidence when applying. There are certain circumstances where you may be entitled to a UK-issued EHIC despite living in another EEA country. Further details can be found in the 'Living in Europe' section below.
If you are insured by another EEA country but live in the United Kingdom, you are not entitled to a UK-issued EHIC. You should contact the relevant authority in the country you are insured by and request an EHIC.
Important: If your circumstances change, you may lose your entitlement to a UK-issued EHIC. If you then use your EHIC abroad, you may be liable for the full cost of treatment received. You may lose your entitlement to a UK-issued EHIC when you move abroad, take up work abroad, or change your residency status.
Families
Every family member requires an EHIC. You can make an application for yourself and on behalf of your partner and any dependent children under the age of 16. If you already have an EHIC, you must enter your own details first and apply for any additional cards when prompted.
If you are under the age of 16, a parent or guardian will need to apply for you. Boarding school teaching staff can apply on behalf of any children in their care.
You will need to give the following information for each person you are making an application for:
full name
date of birth
National Insurance (NI) number or NHS Number (CHI number in Scotland, or Health and Care Number in Northern Ireland)
Temporary NI numbers cannot be used to apply for an EHIC. A temporary NI number uses the prefix "TN", the person's date of birth, and "M" or "F" to denote gender – for example, TN131160M.
Your card will normally arrive within seven days if you apply using the official EHIC website.
Non-EEA nationals
If you or a family member are not an EEA or Swiss national, you will have to provide further evidence that you are eligible. You will need to complete an EHIC application form (PDF, 759kb), attach a copy of your visa or UK residence permit, and post it to:
NHS Business Services Authority
European Health Insurance Card
EHIC applications
Bridge House
152 Pilgrim Street
Newcastle upon Tyne
NE1 6SN
If you live in Europe
If you live in another EEA country or Switzerland, you will be entitled to a UK-issued EHIC if one of the following applies to you:
you receive a UK State Pension or exportable UK benefit and have a UK-issued S1 form (certificate of entitlement) registered in your country of residence
you are a worker posted to work in another EEA country or Switzerland by your UK employer, or a frontier worker living in the EEA and working in the UK
you are a family member of a posted worker or of someone working in the UK and you are not covered in your own right by the EEA country you reside in
you are a student going to another EEA country or Switzerland to study
You cannot apply online for a UK-issued EHIC. Instead, you'll need to request an EHIC-E application form with the Overseas Healthcare Team. Simply call 0191 218 1999 from the UK or 0044 (0)191 218 1999 from abroad, (Monday to Friday 8am to 5pm).
For more detailed information, see the Moving abroad section or phone the EHIC enquiry line on 0300 330 1350.
If you are not eligible for a UK-issued EHIC, you should see if you are eligible for an EHIC in the country you are currently living in.
Residents of the Channel Islands and the Isle of Man are not eligible for an EHIC.