Below is some random reviews from members of our group although people may say this and that about one place or another, what we say is everyone is entitled to their own opinion, if they have experienced it, but what we ask you to do is, don't just go by the reviews try it yourself and make your mind up that way .
Paul Meatey Allenden love the place if you can get a seat ..
Karen Barry Brillant buzz hear love it
Anthony Honer Enjoying a beer here now
😎aren Barry Right job lol mood bag lol
Karen Barry Oh would i just love it cant wait for march be sitting there danceing whatever just cant wait be there
Gillian Rowe Love it there xx
Jackie Millington We always call here when we come off the beach in the afternoon great bar
Andrew Young-hudson Class ther
Sharron Brady Quiet this time of year and mon-wed
Jennie Smith Yeh my daughters over there said a lot of the bars are closed on a nite time
Laura McComb My fave place, love the music and atmosphere.........it's just frustrating that it only has 1 toilet!!

😳

😳
Angie Grieve And we do x
Mark Byrne my lovely wife enjoying the night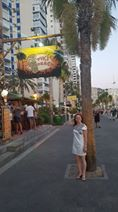 Doug Duncan Aldred Vodka red bull session

😷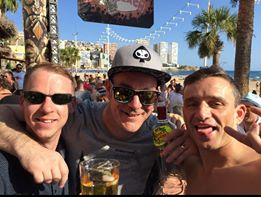 Donna Rowsell Always get sunbed right opposite on the beach,can sit all day hear the music people watch which is great fun here and pop in and out for a nice cold drink brilliant bar
Diane Burns Luv it . Always gud fun. X
Russell Ingle Who's that lunatic who's always pissing about just off the terrace. Shes defo spanish but she pleases folk with her antics
Cheryl Breffit To busy for me can never get a seat. X
Linda Mcilroy Needs a few lady toilet cubicle
Chris Street Top place !
Brian Harvey Love Tiki beach.brill atmosphere.
Brian Harvey Tiki beach last week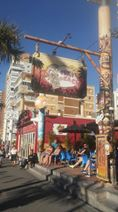 Brian Harvey Was there last week.great weather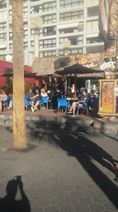 Chris Street Be sat there in april lol

😎
Marian Camp Enjoyed a few sunny afternoons there early December 2016
Rita Allott Had many good drink in there love it xx
Stephen Osborne My favourite bar in Benidorm. I can't wait for the 25th of March
Steve Parry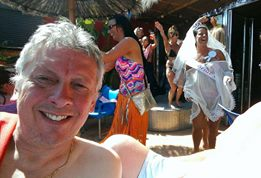 Helen Hewlett Never been but will venture there in April on our next visit
Terri Calvert Be sat there on Saturday
Les Anderson You are right when you say it,s not for everyone ! It,s not much fun for the lady trying to run Pinoccios next door, or the people trying to have a meal there !
Jenna Manley Us girls absoloutely love it here. We always to chat and have fun with everyone of all ages
Rita Allott Good on her I'm '76 an love it when the young ones come in brings back memories x been there done it xx
Steve Watts Had some great afternoons there over the years a bit lively but great fun love the place
Dawn Mitchell Amanda Davidson you need to go when in benidorm
Rita Allott Gets u in the mood xx
Caroline Mccall Great way to spend the afternoon in beni xx
Gary Shaw Always visit here at least once when I'm over

🍺

🎶

🌞

😄

👍🏻

🎉
Karen Johnston Rawe Donna Johnston Mandy Bailie CampbellDeborah Murray cocktails by the beach for us this weekend
David Greenhalgh Dont like this place rather go cayman few bars up
Paul Bromfield Sausage fest, man to woman ratio 100/1

😂
Shirley Carter Past that last year so busy
Alison Hester Cant wait to visit here for first time on thursday

😬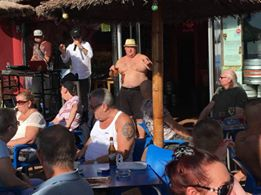 Josie Valentine Love that bar the girl that used to work there was amazing.
Andrew Shabbadoo Glibbery i liked this place too when i visited a few months back. Tikibeach features on my Benidorm mini guide -
Angela Vickers Love this
Denis Taylor Best bar in the world and best pint in Benners
Lou Ridyard Nicola Davies Leanne Webber get us there!
Peter Blake On stage in december

😎

😎

😎