Gary Catchpole Nathan Pybus remember trying to find this..?

😅

🍺

🍹

🍹
Nathan Pybus Yes should of put the sat nav on?owe we did and still didn't find it pissed up.
Amanda Parsk The Alexanders from Glasgow owned that in 70's and 80's. Good friends of ours. Ex husband worked in there. Happy days

:-D
Gary Catchpole Exactly

🤔haha
Paul Maple Great bar

👍🏻
Nigel Hodgson We were there one night in June watching Glasto....great bar.
Vikki Harker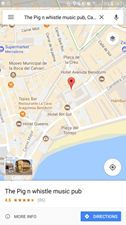 Lisa Stafford Fab bar.......ace music

😊xx
Martin Asker great pub
Jean Smith Love it in here. Met Pete Waterman in there last year, had a great afternoon with him and his mates
Kevin Wood geat little pub,lovely people,good beer,always pay a visit twice a year,jamesons over ice and a bacardi and coke
Brian Robinson Love this place

😎
Trevor Carter i do on the wensday night in fiester week for an hour but with friends
Polly Anna Great pub
Linda Harrickie Brilliant pub with friendly staff, it's just over the road from the ( Rich Bitch) I will be in pig and whistle this Tuesday when I arrive, looking forward xxx
Bev Christie Great little find in the old town, really friendly x
Suzanne Robinson Nicole Jade Jasmine Robinson remember this??
Andrea Cosgrif Great pub! Had some good nights in there!! Xx
John Stafford Lee and Helen are fantastic looking after everyone making sure they have a good time. Good music great venue one of our favourite bars!
Andrew O'Neill Remember this Kate Lee x
Suzanne Francis-Wilson Lovely bar x
Steve Hookey Hookway A fantastic pub will be spending a whole week visiting the pub in September also the Rich Bitch show opposite.