Jumping Jacks below is a list of reviews from our group members , nearly all positive from what we seen , but as we say if in doubt please check this bar out yourself .
David Greenhalgh Great bar
Michelle Little Great bar and friendly staff
Donna Quinn Love this bar go every year , staff are fab always friendly, will be back in August can't wait

😊
Tracy Blair Fantastic bar will be visiting end of Feb
Darren Mason My names on the flag inside
Darren Mason It's a thing you do add your name to the flag
Doug Carroll Great bar always try and get there for a few in the sun
Lorna Hardaker Great bar - love changing tables as the sun moves early in the year!
Lorraine Finnie Love jumping jacks go there everyday when in beni xx
Irene Hobson Brilliant afternoon bar wen sun is shining
Simon St-george Smith Great bar. Love it, always have a few when there. Great in late afternoon as it gets the sun as it goes down
Fiona Pason Great bar,fab staff,great sun terrace
Laura McComb Where is it please, I know it says the end of the strip but I can't picture it!

😳
Sharron Brady Go past white star and Andys bar and it's on the end
Laura McComb Thanks Sharron, I'll pay a visit there in June

👍🏼

🍷

🍺
Lee David Corrigan I used to go there everyday with my family and frends and its got really good staff and good drink and i still go there every March for Cheltenham weekend
Dolly White Great bar and good prices, be in there end of May
Peter Daly Only popped in for a quick pint ended up staying for 4 more cheap as chips & a good pint1
Susan e Howard Fantastic atmosphere and banter
Lisa Naughton Favourite place in Benidorm. Great sun trap and great for people watching. Always love an afternoon here when in Benidorm.

🍺

😎

🌞
Margaret Fairclough Love to sit with a drink people watching and Jumping Jacks is the ideal place
Great staff
Brandon Haughton Sun trap
Jean Lamb Fantastic bar, great guys that ran it, called in on afternoon, Laura Graham (then) sang her little heart out, we missed evening meal at hotel lol n Jessica Elliot became a barmaid

:) so kind and warm hearted xx
Keith Chambers Lovely sun spot
Kevin Duffy Great place is jumping jacks . Cheap drinks and great suntrap
Linda Parkin Best little sun trap in Benidorm
John Mcfarlane All of the golf lads xx end of February and then begin October xxxx
Dave Boyle Brill place people watching fantastic sun trap

👍

🍺
Sheila Bennett my favourite daytime bar love people watching x
Martin Kelly I have an apartment across the road from here
Best breakfast that end of the strip
When I get down to Benidorm there is nothing better than sitting on my balcony and looking across at a busy terrace on jumping jacks with people enjoying themselves ...
Beverley Dodsworth Love a few

🍺 in here on an afternoon, friendly, cheap and perfect little sun trap x
Jean Lamb Happy hen do in JJ's xx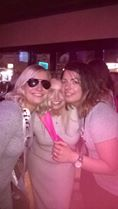 Geraldine Waddell Love a drink there when I'm in Benidorm x
John Mcfarlane Last time we went man air 1.four coffee s four brekky barms£36 robbery
Gary Catchpole Mahou!!!
Christina Macpherson Lockhart Brill walked in sober n had an amazing time

😂
Paul Frost And it's got the best looking barmaid in Benidorm
Lynn Dingley Love this bar always our first stop when we arrive in benidrom
Arthur Jensen Good and cheap staff nice
Anthony Drake Ideal place halfway from old town spent many a lunchtime in there sunning ourselves and people watch and of course drinking